TheatreZone's 'Bright Star' a hummable musical
When you start looking up the lyrics to a song so you can replace the la-la-la-LA-la in your head with words, you suspect this mu-sical is going to be staying around. Then you notice: Despite the short marquee moment on Broadway, there are already ka-raoke versions.
Despite the fact it only got a short marquee moment on Broadway, "Bright Star" has ad-dictive melodies and the authen-ticity of a true story behind it.
So infectious is the title song that the cast reprised it for the curtain call at TheatreZone and the audience gladly kept time. They also would have gladly sung along. Hence, the burrow-ing into themusiclyrics.com to cement them.
"Bright Star" is making its first rounds of regional theater in Florida, and TheatreZone is one of the lucky ones to have nearly all the orchestral talent for its American music right in Naples. (There's only one visi-tor: Those sweet fiddle licks come from Brittany Halen, a Houston-based actress-musician who got her own show here in "At the Movies!" last season.)
TheatreZone is also lucky to have as musical direc-tor Keith Thompson, who has national tours of musi-cals like "Mamma Mia!" and "Cabaret" under his belt. He knows when to bring out the ballad ("The Sun Is Gonna Shine") and when to let it twang, as in the flirty "Whoa, Mama!"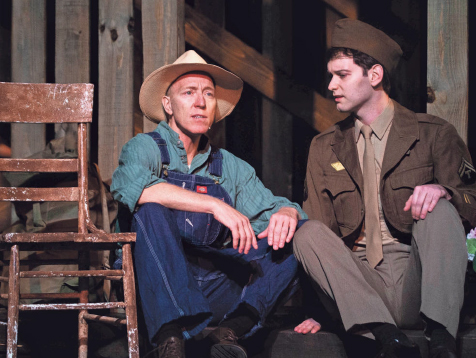 "Bright Star" has its own celestials: writers Edie Brickell and Steve Martin, who have become bluegrass luminaries above and their other onstage careers. We occasionally wish they had spent a little more time at the lyrics store, because there's more repetition than necessary in several songs. And although they wed au-thentic music to a true story, its requirements gave them little time to develop the relationships between characters.
Still, it's a treat of a musical, solidly attuned to its story and song parameters. No rap, no onstage pyro-technics — just good material and casting in a work that requires its two main actors to age 20 years and presses everyone into solo spots.
Since this musical was in diapers, Kimberly Doreen Burns has had her sights on the central role of Alice Murphy, whose newborn is snatched from her by a grandfather determined to save his son's financially favorable marriage. She proves the perfect fit for the heroine determined to thrive, from a radiant 16-year-old to a jaded literary editor. Burns is dramatic without ever straying into soap opera, and those tears of joy in the story's climax are real.
Robert Koutras is a fine singer, athletic and emotive as Jimmy Ray Dobbs, Alice's doting, yet powerless, boy friend. But one looks at the couple and thinks she's the more likely candidate to be the mayor's progeny than he. The "Grease" hair desperately needs to be tamed.
There's not a weak character in this cast, and there are some zenith moments for nearly all:
Both Quinn Corcoran (Billy) and Rachael Lord (Margo), with clear, sweet voices and fresh-faced en-thusiasm that project the budding author who wants to be in Alice's Southern Journal and the bookstore manager who wants to be in Billy's life. His "Bright Star" is an instant ear worm, and she sings the show's most poignant song: "Asheville."
Laura Whittenberger's effervescent Lucy, whose "Another Round" and her snappy banter with her workmate, Daryl, are lagniappe, that extra spice to send the story over the top. Robbie Rescigno (Darryl) is an engaging foil to her, arch and savvy and infuriating— and in his own perverse way, lovable.
Paulette Oliva, as Alice's mother, who shares in her daughter's losing war against fate. Still, she's a convincing maternal harbinger of hope with "The Sun Is Gonna Shine."
Jim Ballard as the 90 percent bad guy, Jimmy Ray's father, who whisks Alice's baby away to what could be an awful fate. His miserable end and his sur-prising gift to Alice leave enough questions that we eventually understand why Jimmy Ray doesn't cut all ties to him.
Clever wood-hewn sets are whisked away or rotated to keep the pace, and Karen Molnar Danni's sunny dance scenes, snappy. Credit goes to Noelle Horldt, Tláloc Lopez Watermann and Mike Gambuto, produc-tion manager, scenic designer and assistant stage manager for those.
First credit goes to founding artistic director Mark Danni for bringing this one to Naples. Following a March production of Lerner and Loewe's "Camelot," he's planning another that Broadway shorted, "The Bridges of Madison County," in April 21.
After this production, we can't wait.